ANTI LOCK LIGHT ON? NO SPEEDOMETER? NO BUS COMMUNICATION?
YOU MOST LIKELY NEED AN ABS CONTROL MODULE.
Priced at $389.00. Units are ready to ship and are preprogrammed for your car. (plug & play)
NOTE: A REFUNDABLE $250 CORE CHARGE will be added to prices below. The core charge will be refunded upon receipt of your old ABS UNIT.
If you don't know which engine you have, email the VIN number of your car.
Click on the arrow in the box below to find your specific vehicle.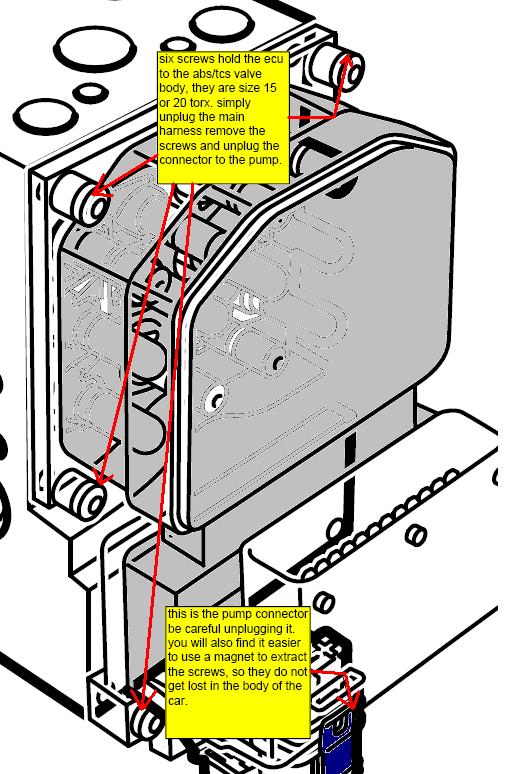 Please call with questions. If I can't answer the phone, I will usually call you back between 4:00PM and 9:00PM Eastern Time; so leave a number with those times in mind. Email may be faster, use the contact button at the top of the page.

A hard brake pedal on the 1994 later 900, 9-3, and 9-5, can be caused by numerous things. Be aware that on startup, the engine management system retards ignition timing and adds throttle, to heat up the catalytic converter. This causes engine vacuum to be very low, so an electric vacuum pump was added to the system through 1999 models. In 2000 most cars had a mechanical vacuum pump installed in the head, driven by the exhaust camshaft. Often the vacuum hose fails, or the check valves in the hose fail. Sometimes when the check valve fails oil will be drawn into the brake booster, which will cause it to fail. I have seen a couple of 9-5s that smoked so bad (at times) that I thought they had a bad turbo, and it turned out that the vacuum check valve had failed in the line. The latest lines have 2 check valves, and I recommend changing the line if there is only one in your original.

The ABS system used on 1994-1998 SAAB 9000 AND 900 and 1999-2003 9-3 AND 9-5 operates similarly to standard vacuum boosted brake systems. The ABS system is passive, and has an electric pump that makes up the lost fluid pressure when the system is active. These systems have had abs failures that often appear with a check engine lamp, or intermittant speedometer issues. Often there is an inability to communicate with the engine management computer.

Test your ABS MODULE in the following manner:

With the key OFF UNPLUG THE ABS MODULE. IF YOU ARE THEN ABLE TO COMMUNICATE WITH THE ENGINE MANAGEMENT SYSTEM THE ABS MODULE HAS FAILED.

IN THE EVENT YOU DO NOT HAVE THE FACTORY TOOL, WE CAN SEND YOU A LOANER/TEST MODULE, AND WILL HELP YOU OVER THE PHONE. IF THAT DOES NOT FIX IT, YOU MAY RETURN THE UNIT FOR A $100 FEE. LITTLE RISK, HIGH REWARD!

ORIGINAL EQUIPMENT MANUFACTURER, ATE PART.

SAAB PART NUMBER 4779500 LISTS FOR $2524.00

SAAB PART NUMBER 5390091 LISTS FOR $2524.00

SAAB PART NUMBER 5230180 LISTS FOR $2524.00

SAAB PART NUMBER 5233911 LISTS FOR $2524.00